Diamond Engagement Rings
An engagement ring is a promise and a commitment. Serving our clients in Longmont, Boulder and Northern Colorado, Snyder Jewelers offers both the opportunity to have an engagement ring designed and crafted only for your loved one and an extensive selection of diamond engagement rings from our designer collections. We have the quality and selection you have been looking for. For your convenience, we offer photographs of our designer collections on our website – browse at your leisure and then visit us at our store. Our experienced staff will personally assist you in selecting the perfect engagement ring.
We feature these designer collections – we will gladly customize any item to fit your specifications and budget.
Gabriel & Co.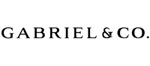 Gabriel & Co. knows that underlying every piece of significant jewelry is emotion. A necklace, a bracelet, a ring are symbols of value, of relationships, of unforgettable moments, of love. They are the emblems of the women who wear them. The Gabriel philosophy brings beauty, style, and elegance to each signature piece by pairing spirited designs with exquisite craftsmanship. Gabriel knows that jewelry is not about the objects, but about the women they adorn. They are the crafted expressions of each woman's personal style. Whether purchased for herself or bestowed by a loved one, Gabriel jewelry enhances the beauty of every woman.
Mark Schneider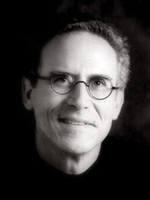 Mark Schneider's award winning fine jewelry collections include unique diamond bridal engagement rings with the trademark Secret Heart on the ring's band. His jewelry designs are featured in numerous publications and in museum collections worldwide.
Beverly K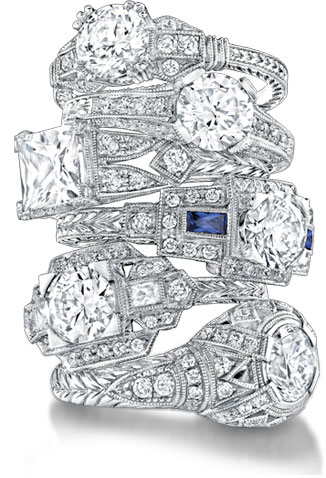 Established in 2000, Beverly K is dedicated to crafting jewelry of the highest quality. Their large collection of beautiful, handcrafted bridal rings features vintage styles with intricate filigree, hand-beaded borders and side profile details. Blending feminine charms with exquisite craftsmanship, each ring is a beautiful mosaic of fine miniature work.
Allison Kaufman

Allison-Kaufman is one of the oldest and most respected diamond jewelry artisans in the US. For three generations, Allison-Kaufman has earned its reputation as one of the world's finest jewelry manufacturers. The production of an Allison-Kaufman piece begins with the selection of the most brilliant diamonds and gems to be hand crafted into beautifully styled designs. Only after a meticulous team of jewelers inspects for quality and craftsmanship does a piece become Allison-Kaufman jewelry and receive the distinct AK trademark.
View more of Allison Kaufman's designs