Diamond Wedding Bands
A wedding band signifies the permanence of your commitment to each other. Snyder Jewelers offers both the opportunity to have a wedding band custom designed by our experienced staff and a large variety of distinctive diamond wedding bands available from our designer collections. Serving the Longmont, Boulder and Northern Colorado communities, Snyder Jewelers' convenient Longmont location is the place to see your favorite pieces in person – let us assist you in selecting the perfect diamond wedding band.
We feature the following designers – we will gladly customize any item to fit your specifications and budget.
Beverly K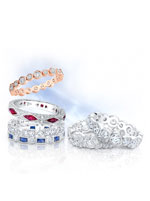 Established in 2000, Beverly K is dedicated to crafting jewelry of the highest quality. Their large collection of beautiful, handcrafted bridal rings features vintage styles with intricate filigree with hand-beaded borders and side profile details. Blending feminine charms with exquisite craftsmanship, each ring is a beautiful mosaic of fine miniature work.
Gabriel & Co.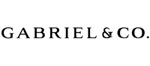 Gabriel & Co. knows that underlying every piece of significant jewelry is emotion. A necklace, a bracelet, a ring are symbols of value, of relationships, of unforgettable moments, of love. They are the emblems of the women who wear them. The Gabriel philosophy brings beauty, style, and elegance to each signature piece by pairing spirited designs with exquisite craftsmanship. Gabriel knows that jewelry is not about the objects, but about the women they adorn. They are the crafted expressions of each woman's personal style. Whether purchased for herself or bestowed by a loved one, Gabriel jewelry enhances the beauty of every woman.
Breuning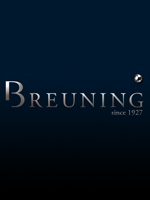 Founded in 1927 by Franz Breuning, this company has more than 850 employees in the field of classical jewelry production according to the highest German quality standards. Breuning produces unmistakable wedding ring and jewelry designs with the finest quality, most advanced expertise, and the latest technology.